7 ways to deliver brand activation at music festivals
September 2017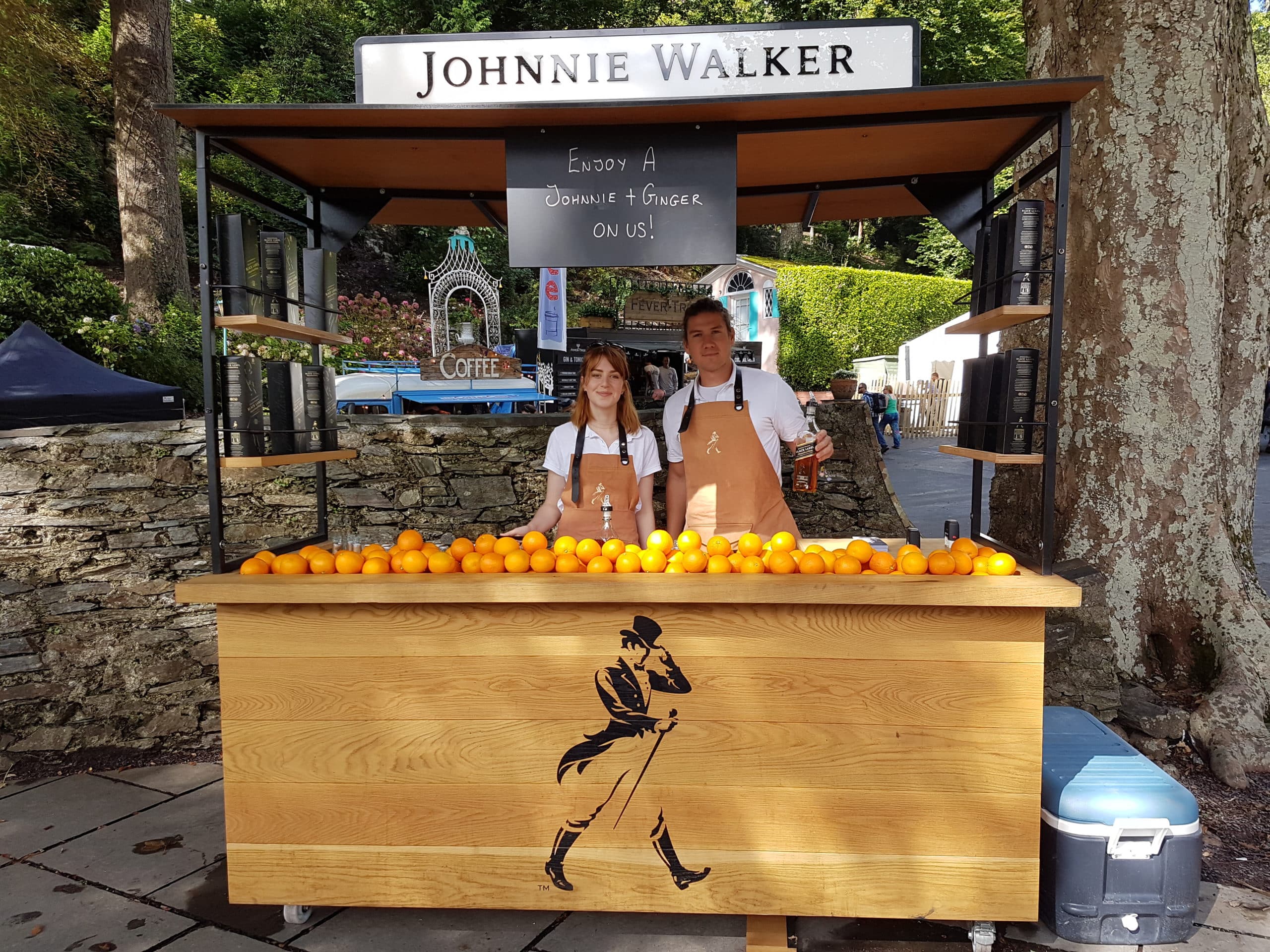 Melissa Hannan is Senior Account Executive at Purity – this summer Purity has created and delivered experiential campaigns for brands at a number of festivals across the UK including the Reading Festival, V Festival, SW4, Lovebox and Festival Number 6. This article explores how brands can create maximum engagement when considering brand activation in the festival arena.
Festival attendees are more informed, socially connected and have higher expectations than ever before. With greater value placed on an experience and consumers now prepared to spend more money on these experiences over products, it's crucial that brand partners at festivals ensure they are reaching their audience through well-considered brand activations. Festivals have long been used as a stage for brands to promote new products and engage with their target audience. In today's experience-driven economy brands must strive to enhance fan experiences through unique, credible and relevant activations. However, with an increasing number of brands present at festivals competition is extremely high, it's vital you consider elements which will not only get the attention of the festival attendee but one which will leave them wanting to invest in your brand post-festival.
I've taken inspiration from my visit last weekend to festival Number 6 to provide seven ways to effectively engage your brand with consumers at a festival.
1. Drive traffic with incentives
Johnnie Walker – 'Johnnie & Ginger'
How to catch the attention of festival-goers is a crucial consideration at a festival where there is a captive audience and numerous competitor brands vying for their attention. A great way of driving attendees over to your stand is through offering an incentive. Official No.6 Whiskey sponsor Johnnie Walker encouraged attendee's over to their main bar in the arena by handing out vouchers to be redeemed against their cocktails. There were 4 strategically placed mini bars situated around the festival with staff handing out free samples of Johnnie & Ginger along with the drive to purchase vouchers. The minibars effectively offered additional visibility for the Whiskey brand, if you were at the festival and didn't spot a Johnnie Walker bar…where were you!?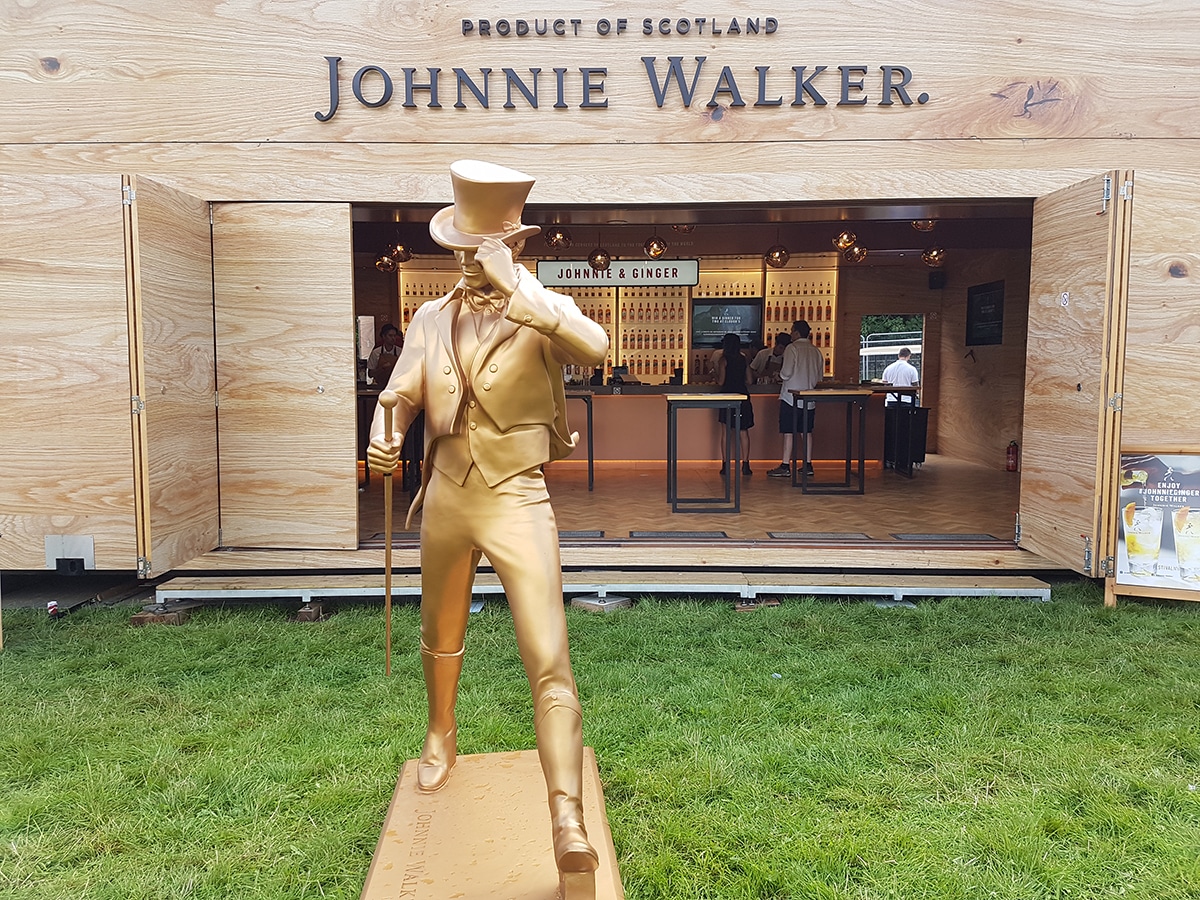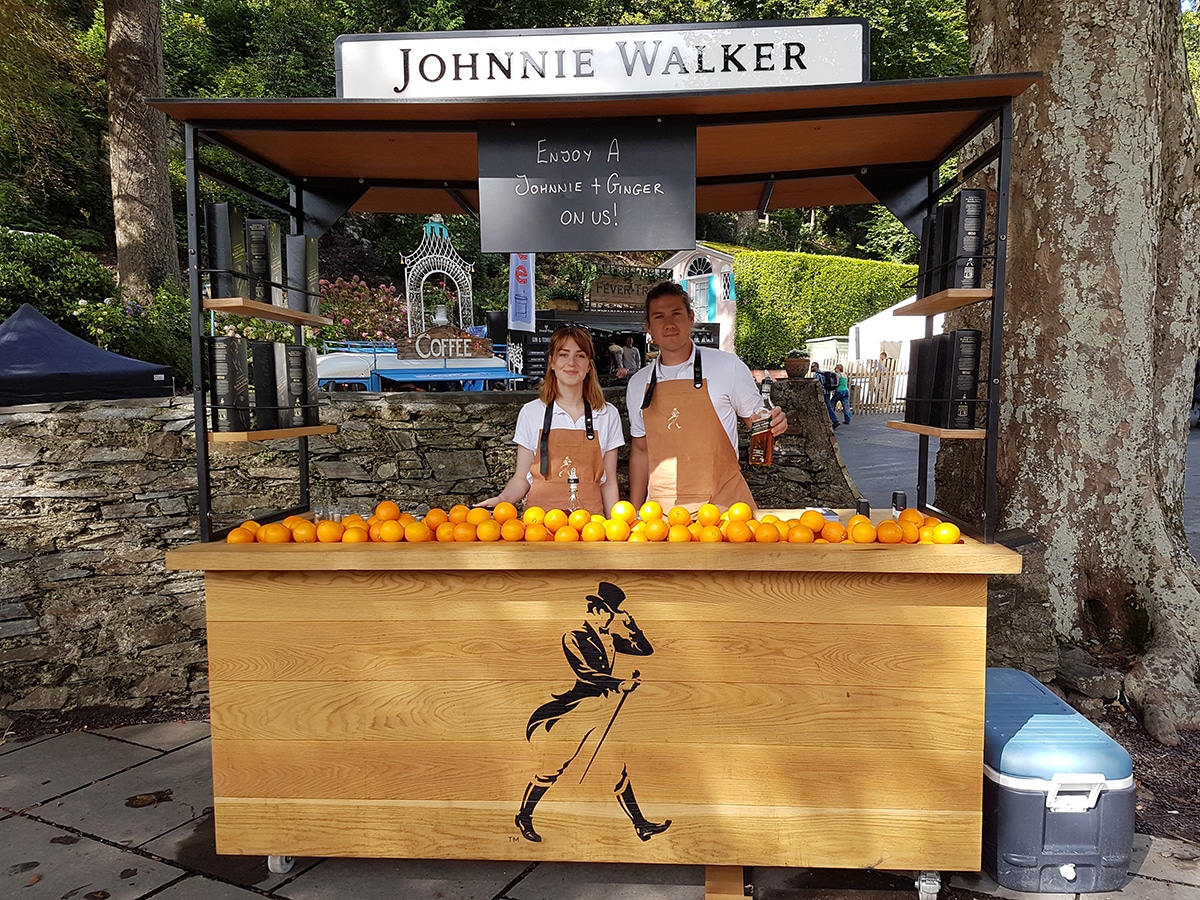 2. Create a consistent experience across various Festivals
Naked Juice Colourtopia
The humble festival is where it all began for Naked Juices with an ambitious young businessman and an idea and so festivals will continue to be at the heart of the brand's marketing strategy. Naked is currently driving trial and awareness of their new smoothie ranges both online and through experiential marketing at festivals, they have already visited Latitude and Wilderness festival this summer. The activation creates shareable and consistent content as consumers are encouraged to decorate Colourtopia with fruit stickers and take photos in front of their masterpieces.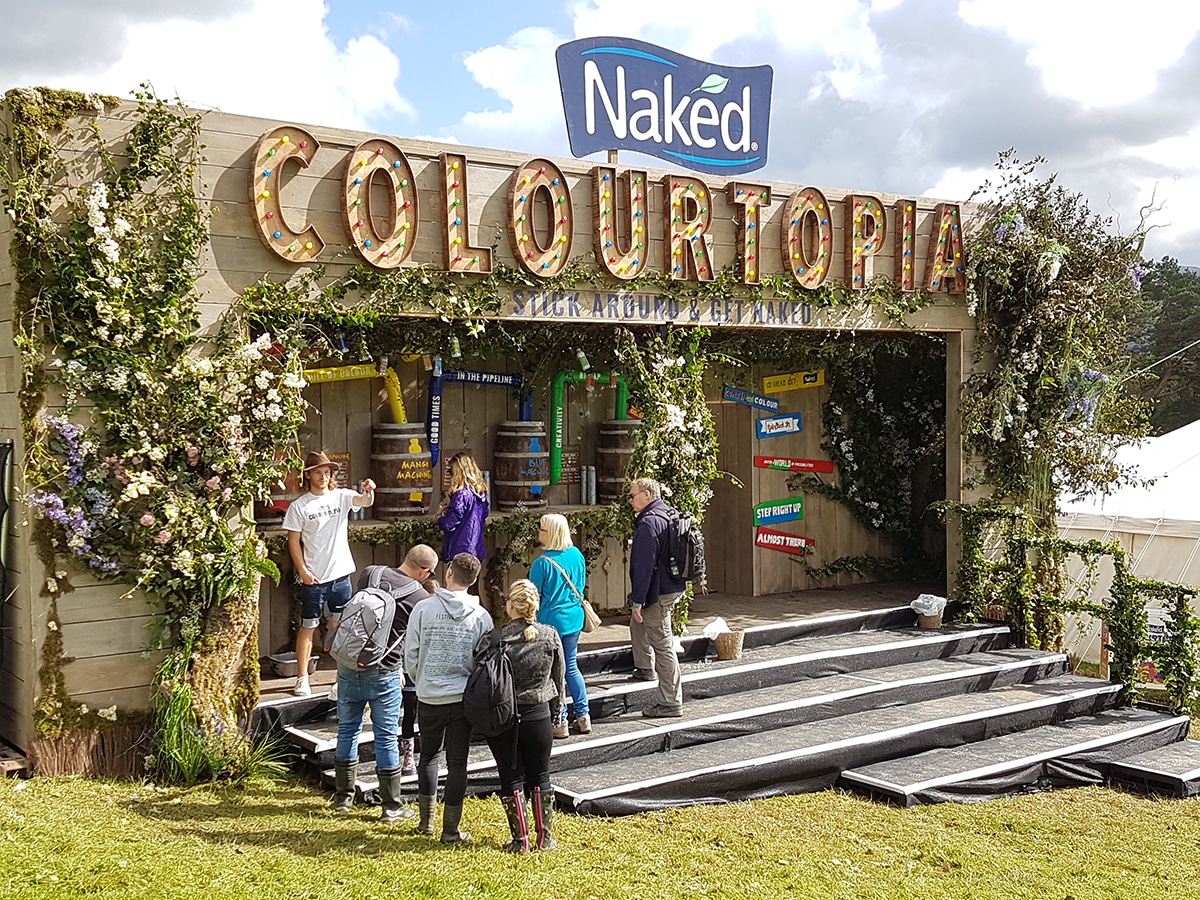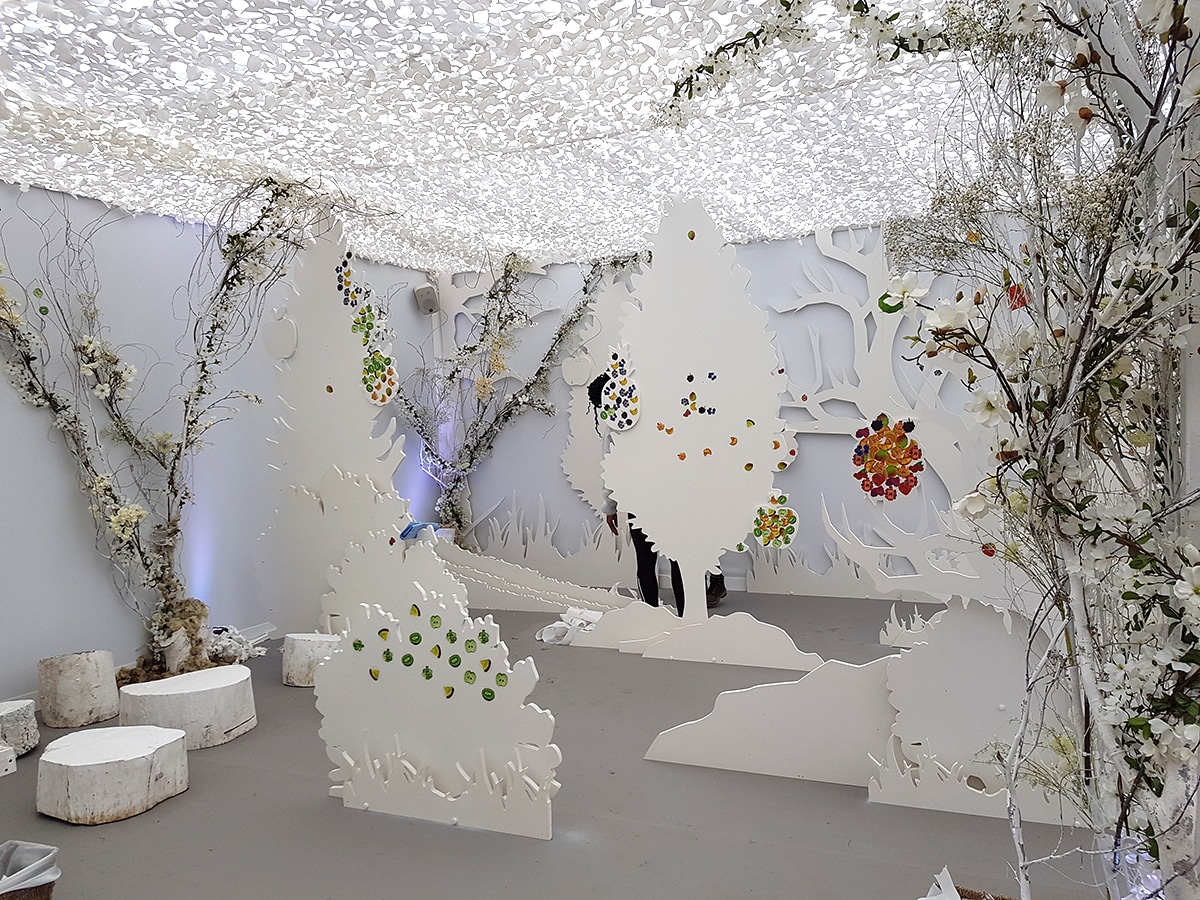 3. Keep it fun!
Old Mout Kiwi Camp
Finding enjoyable ways to elevate the attendee's festival experience is exactly what Old Mout did, the New Zealand drinks brands position themselves as being adventurous and that was evident in this activation. Not a fan of queueing for a drink? The Kiwi Camp offered a fun queue jump solution in the form of a giant slide which gets punters straight to the bar. If you didn't fancy sliding your way to the bar you could always give Gospeloke or Rockaoke a go inside, a fun twist on the classic party game.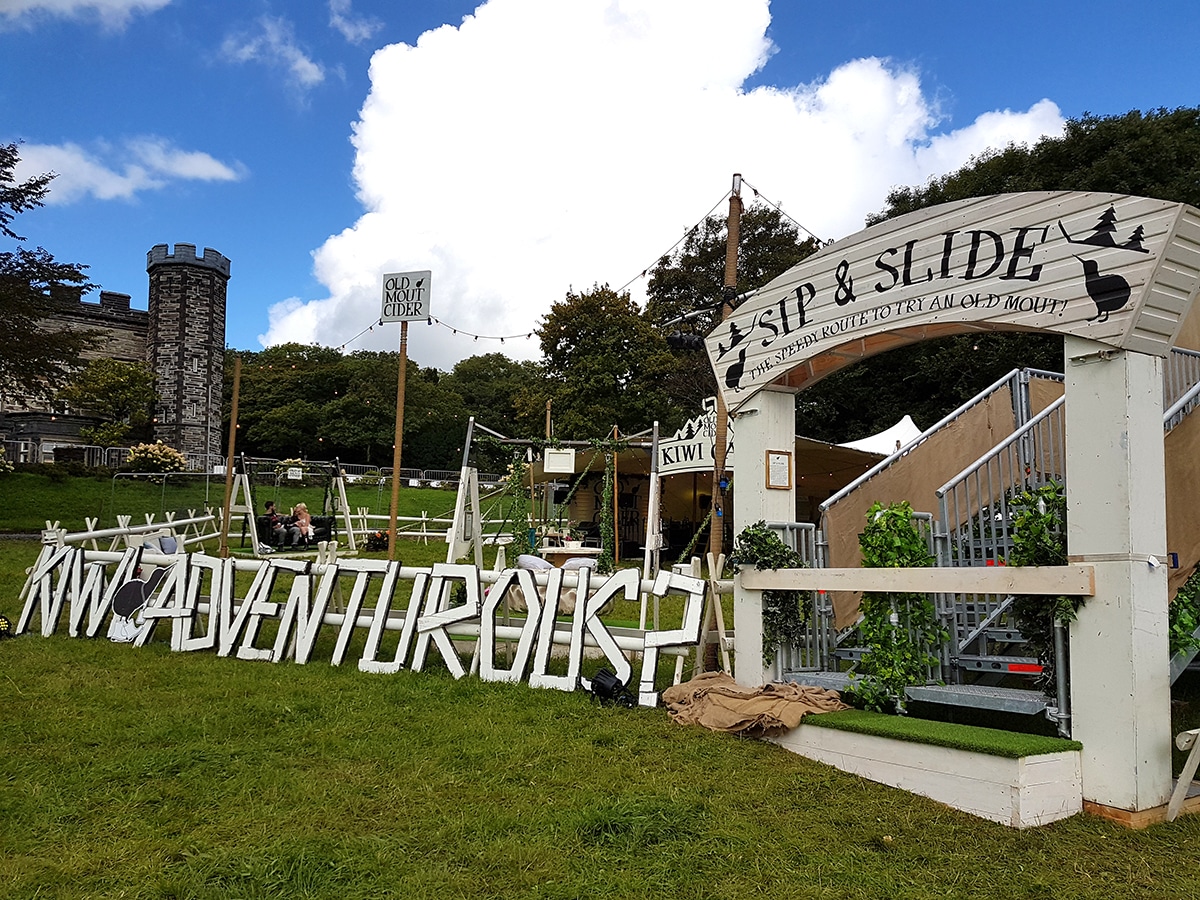 4. Understand the values of the Festival and its audience
Fever Tree Ultimate Gin & Tonic Bar
Boutique festivals such as No.6 attract an audience of likeminded individuals who tend to share the same values as the Festival. Fever Tree supported the festival's emphasis on sustainability by offering a cup deposit trade-in scheme, every cup returned to the bar meant the attendee got £1 back. This scheme likely appealed not only to G&T drinkers but to those who support the movement towards acting sustainably. Furthermore, the Fever tree cup became a hot accessory with many people seen walking around with their cup of Fever Tree G&T providing additional exposure across the festival site and encouraging repeat visits back to the Fever Tree concession.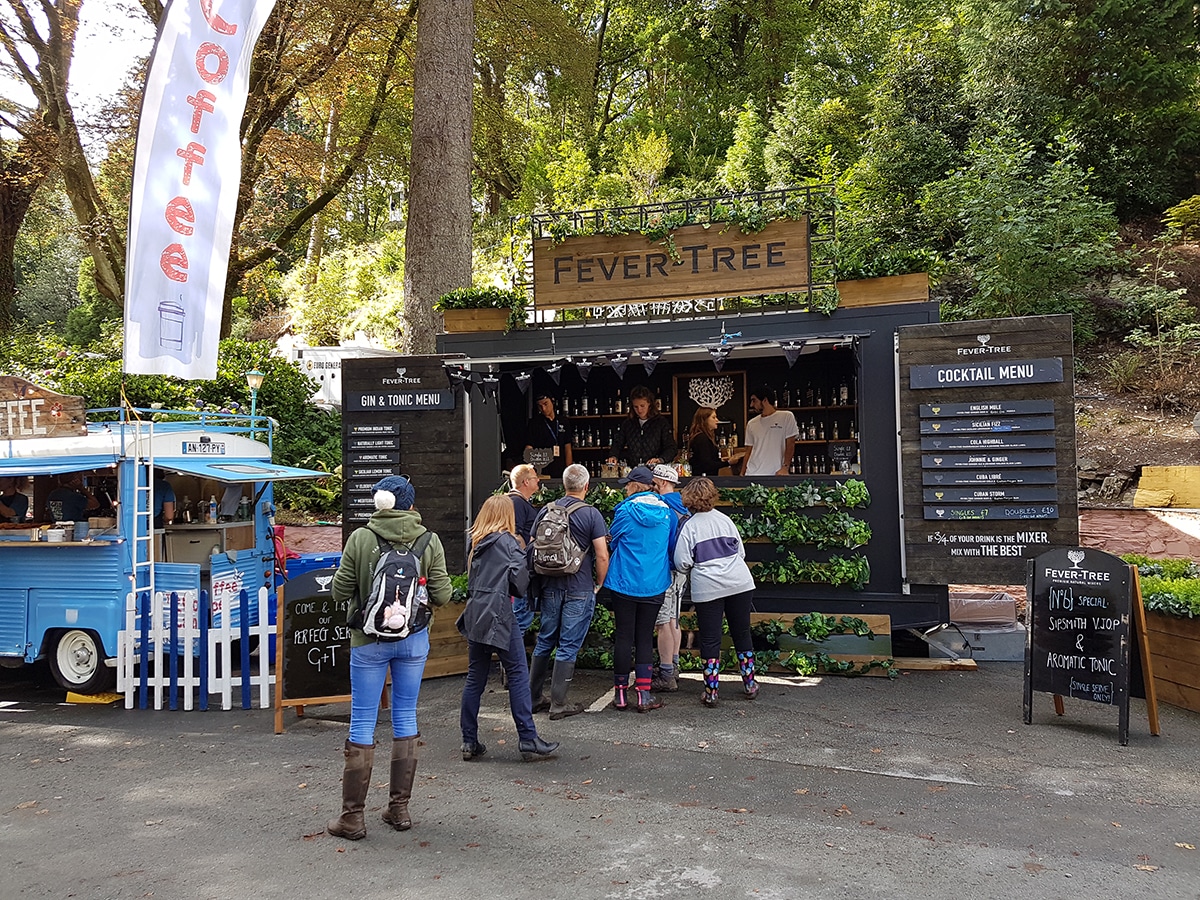 5. Partner with other brands
Birra Morretti Pizza Masterclass
Italian Beer company Bitta Morretti teamed up with Pizza Pilgrims to offer festival attendees the opportunity to take part in a unique pizza masterclass filled with tips and secrets from the experts, as what better accompany to beer than pizza? Partnerships like this strengthen the position of the brands and gives the audience a chance to get to know them in a different context. A potential curve ball here would be to consider brands/industries which yours wouldn't normally be associated with and think of inspired ways to join forces.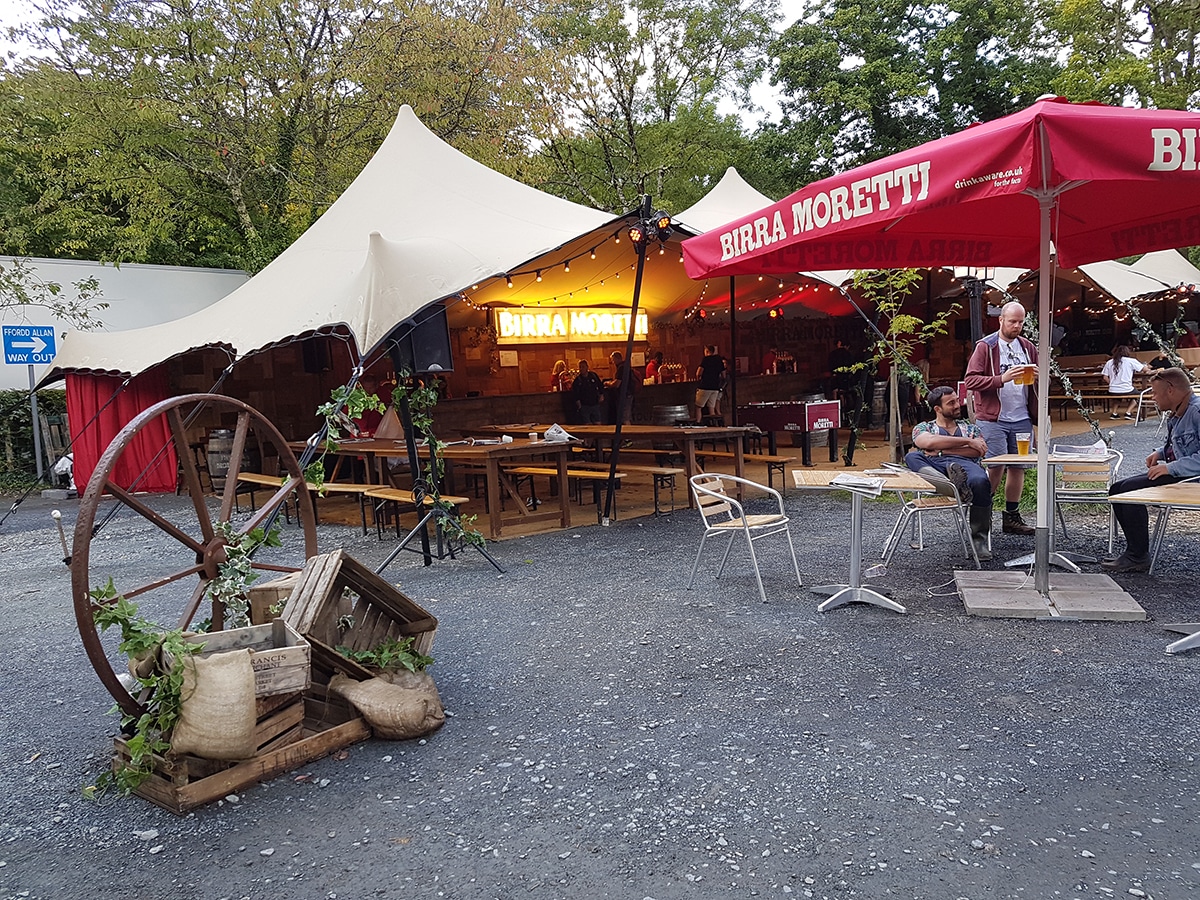 6. Invite the audience to trial the products themselves
Kettle One Vodka Kitchen & Johnnie Walker Bar
If you aren't aboard the popular gin train then the Kettle One Vodka Kitchen Bar offered a great alternative; as well as offering various Vodka cocktails, consumers had the opportunity to learn how to make the ultimate Bloody Mary for themselves. Johnnie Walker also offered cocktail masterclasses, giving consumers the chance to create their own Johnnie Walker cocktail by experimenting with an array of ingredients handpicked to complement the Whisky. These masterclasses enabled brands to be delivered as packages of experiences and offered an opportunity for consumers to get to know the brands on a one on one basis with the brand experts.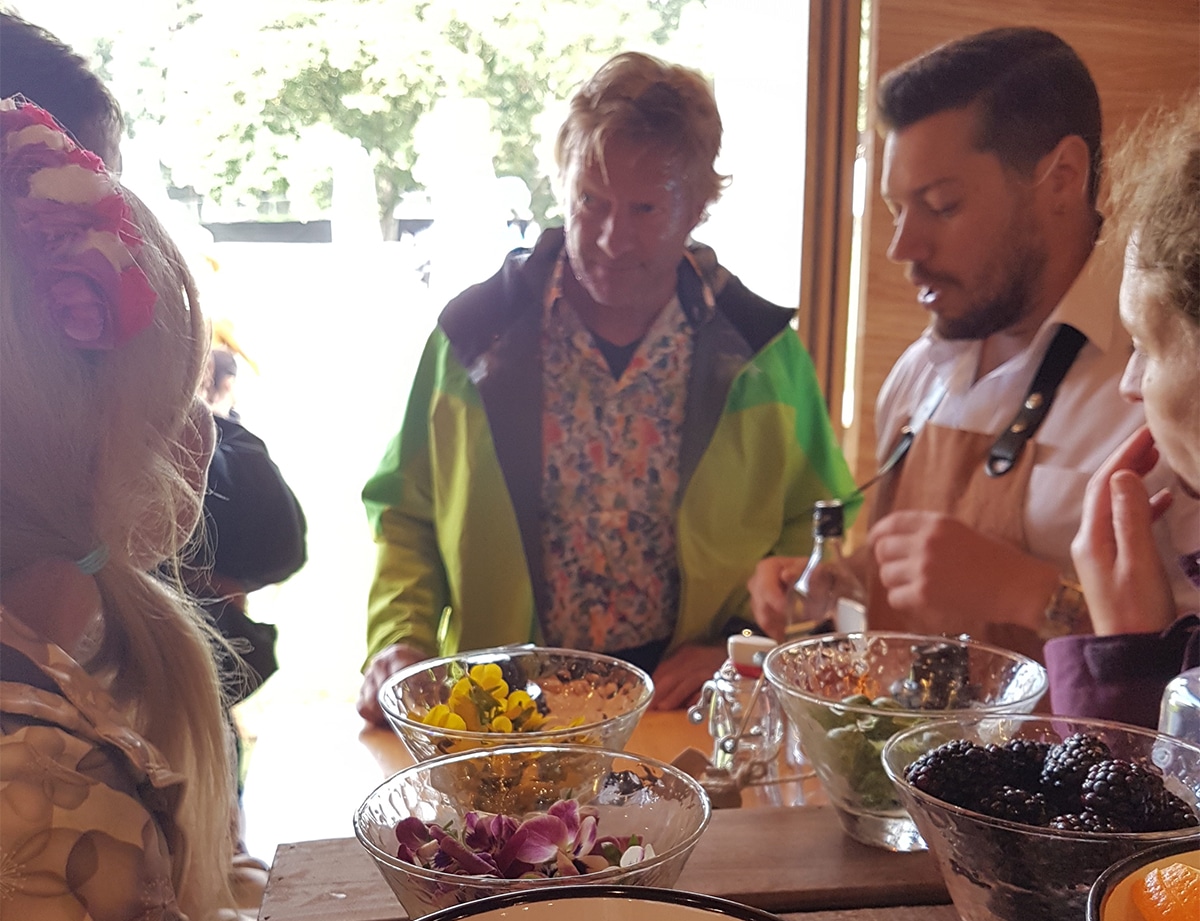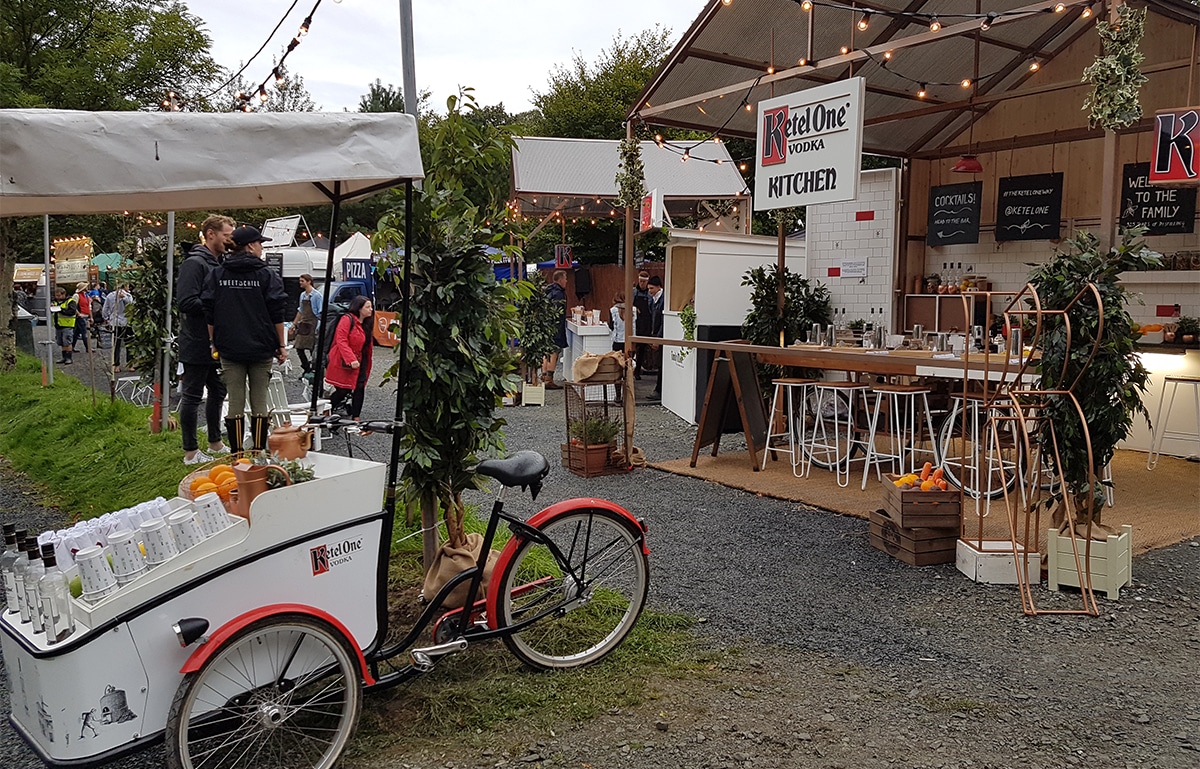 7. Size doesn't actually matter…
Bottle Green Garden Bar
Bottle Green Bar demonstrated that you don't need to have the biggest footprint at the festival in order to make an impact and be noticed from afar. Amongst the giant vivid garden flowers and overlooking the beautiful River Dwryryd Estuary, the Bottle Green Garden pop up bar offered three new refreshing flavours for attendees to trial. By creating a leisurely environment with an inviting seating area it encouraged consumers to stick around and enjoy the relaxed ambience and incredible views while sipping on their Bottle Green cocktail (in between the Welsh showers!).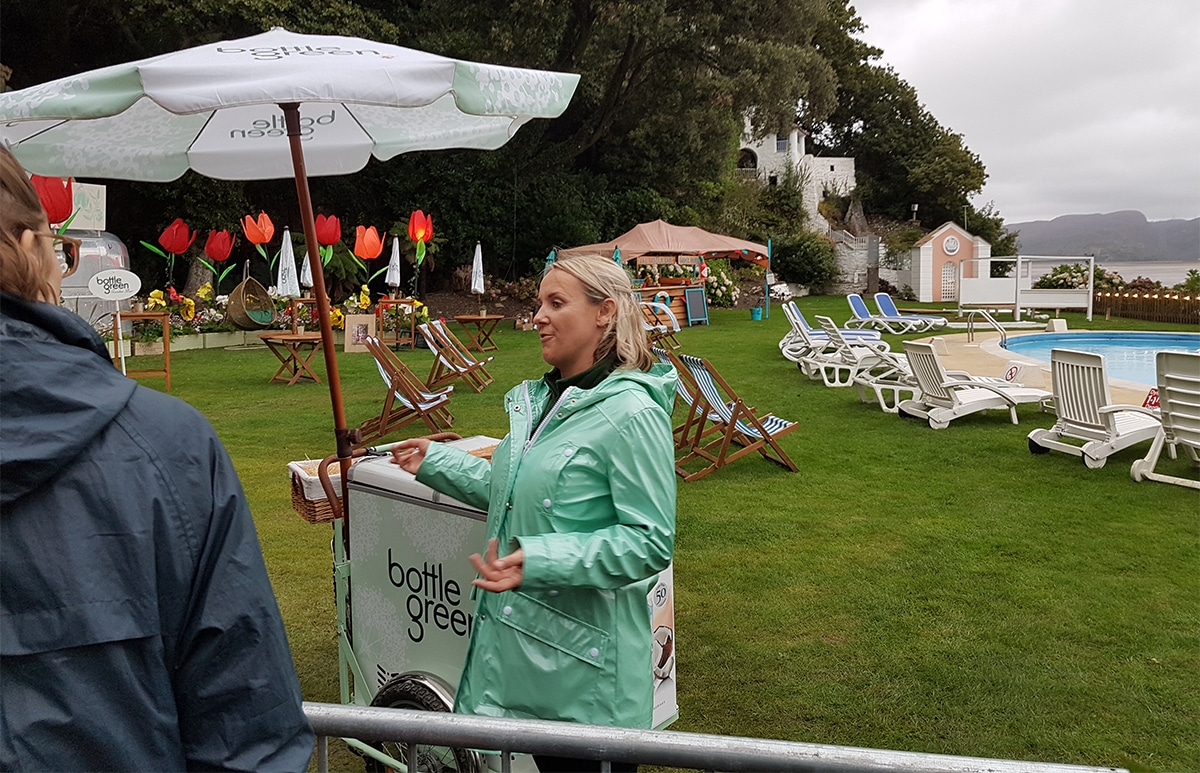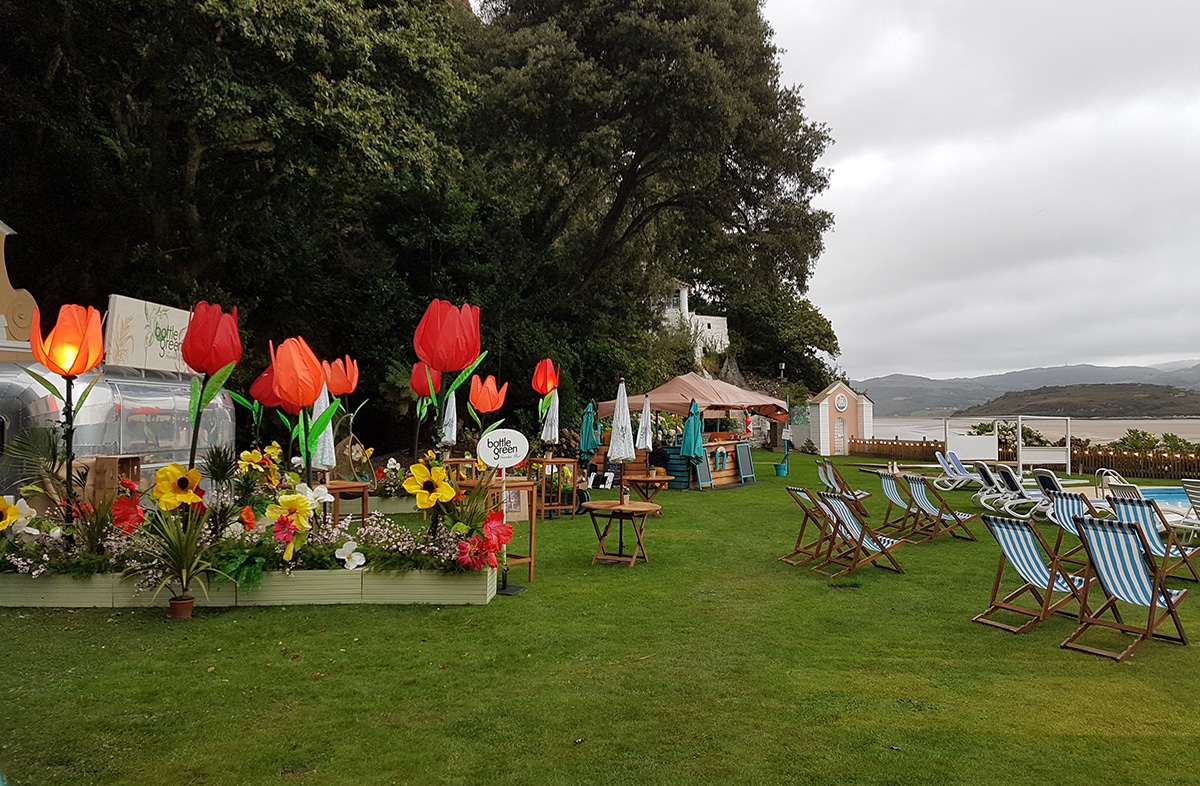 Get in touch
Contact us today to launch a sensory marketing campaign