Baqer Keshwani is Business Director for Purity in New York. He has landed today fresh from what can only be described as a unique experience. As a company that creates and delivers brand experiences for clients across the world, it's very refreshing when we are occasionally exposed to unique experiences of our own. Read here about about Baqer's walk on the wildside.
No cell phones allowed?! For 72 long hours, how will I survive this?!
I'm on my way back to 'civilisation' after having spent 72 hours in the middle of nowhere 150kms north of Gothenburg in western Sweden, and it's fair to say I miss it already.
When the idea was first presented to me, I was sceptical, but I said 'yes' to be part of an experience. What an experience it truly was!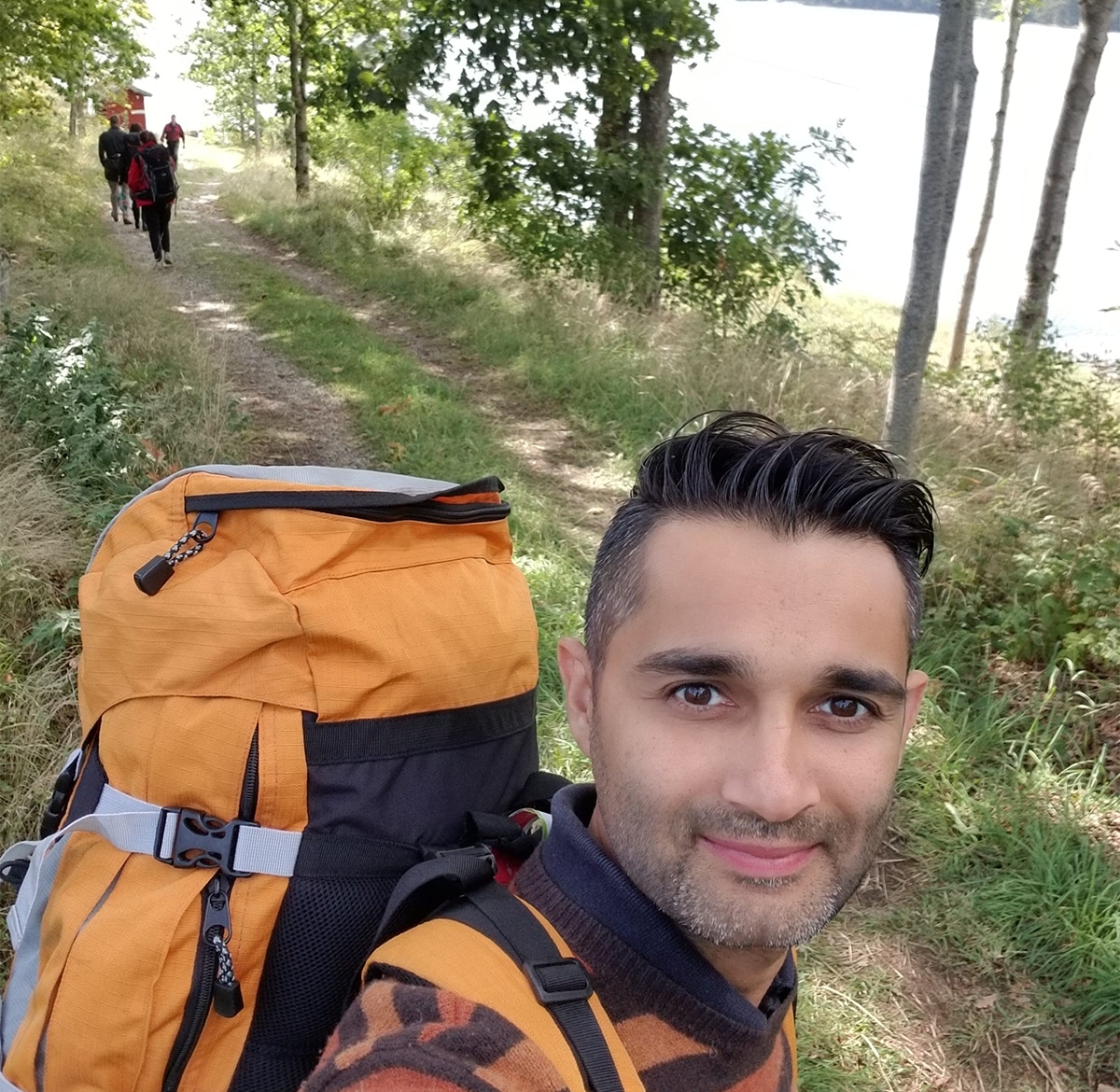 I arrived at Gothenburg Landvetter airport with four other participants, and was transported to the small town of Animskog. There, on the shore of the adjacent Lake Animmen, we were picked up on a boat by Stephan, a 75 year old Swedish man who owns an island called Henriksholm. After short boat ride we reached the dock where we were greeted by Stephan's family, the team of Visit Sweden, West Sweden Tourist board and Prime, the agencies that organised this wonderful, life changing experience.
Lunch was served shortly after and we were then given a tour of the island. A sauna right by the lake – apparently Swedes go to the sauna and take a dip in the cold water before repeating the same over and over again. I had decided, I wasn't setting foot in that water, too cold for my delicate NYC body!
Then came the big moment of seeing the cabin, my home for the next three days! At first it looked beautiful, but the real beauty of it wasn't realised until the next morning. It was made out of unfinished wood and perspex all around for us to be able to view outside. Each one of us were allocated our own cabin and were placed a few hundred meters away from each other.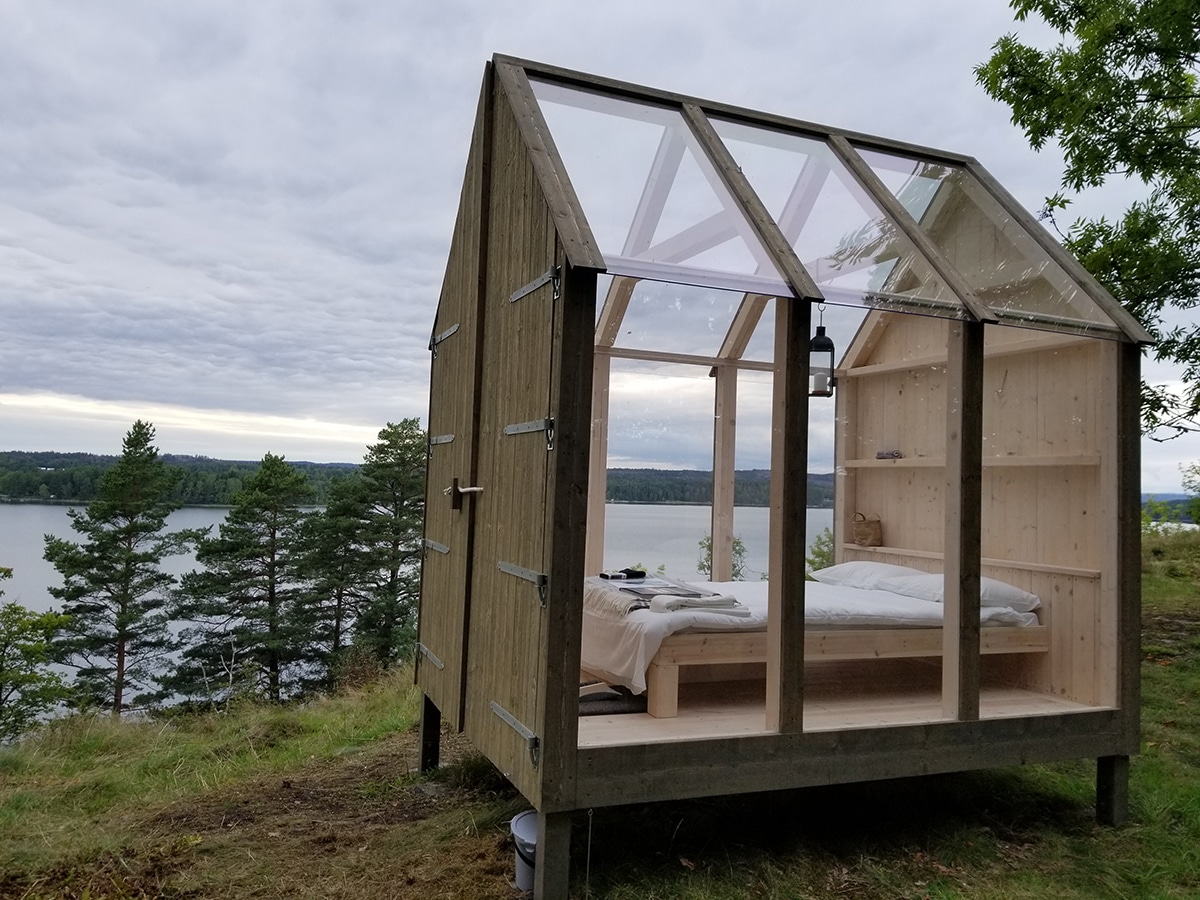 We settled in to our 'home away from home' before meeting in the tent kitchen area for some lovely dinner. Camp fire, wood stove, steaks on the grill – all old school. By then I was beginning to feel a little relaxed, it wasn't what I had expected, which was a good thing. After dinner everyone headed back to the cabins and we had to use the little flashlights to find our way, in the middle of the woods! Needless to say, that was a little challenging but I not only made it, but also fell asleep as soon as I hit the sack.
The next morning was perhaps the best moment; a moment I'll never forget. I opened my eyes, and all I could see were tall lush green trees with a hint of yellow leaves and the calm waters of the lake right by my cabin. Now I knew the real beauty of it. I found myself staring at it for a long time before I finally dragged myself from beneath the comfort of the duvet. Yes, I had missed the morning excursion of cray-fishing but I couldn't have cared less.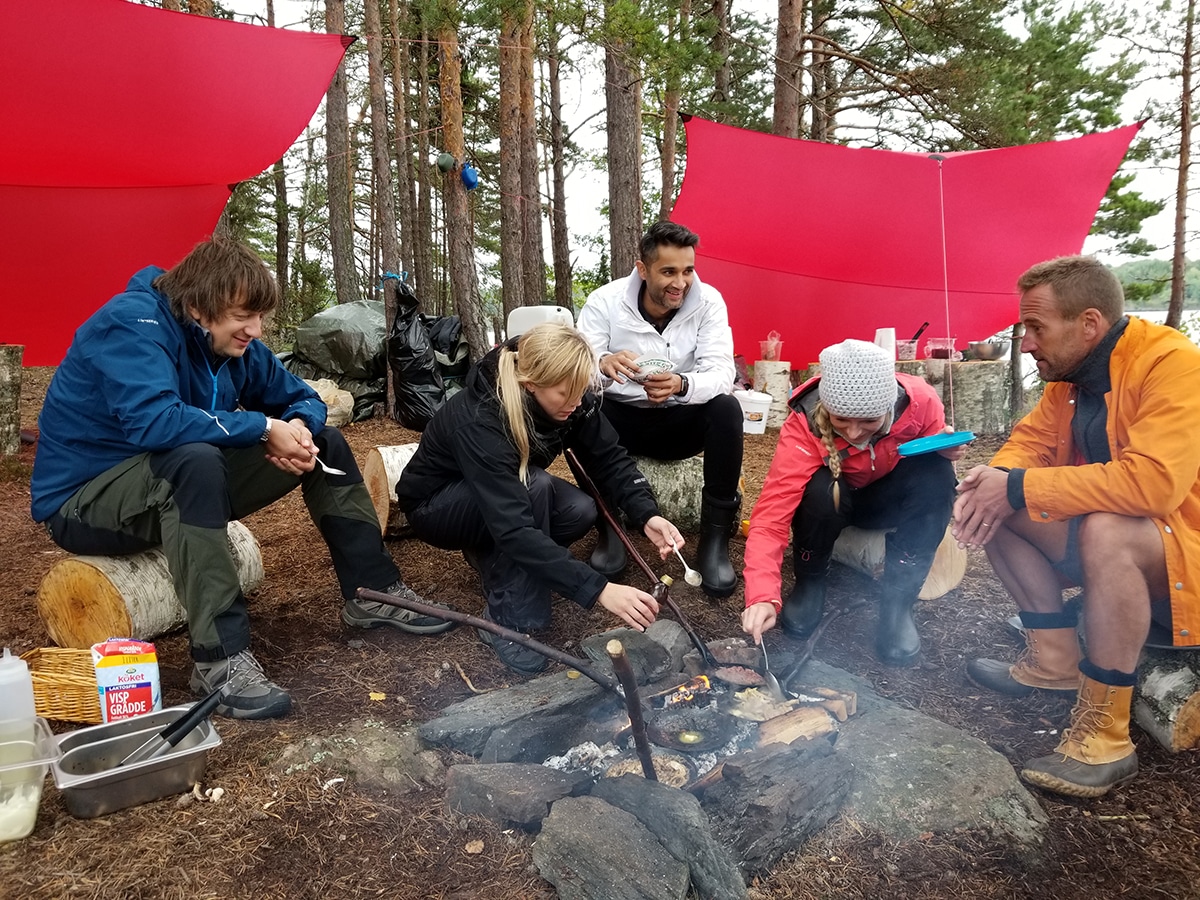 Breakfast at the same tent area before a kayaking excursion. Another first for myself! The instructor was great, I must admit. He assured and reassured me that I'd be fine and stayed with me until I finally got the hang of it. At one point I was in the middle of the lake and stopped paddling. I closed my eyes and kept thanking my lucky stars for this opportunity. Chris, another participant, and I belatedly took an excursion of our own and went to collect some crayfish, only to be disappointed that the fish were much cleverer than we thought and hadn't taken the bait.
Lunch and some downtime before sauna. Now sauna and shower or sauna and dip in the pool is perfectly human but who goes for a dip in the lake! Well apparently every Swede does and so did I, repeatedly. At one point I sat in the water just looking at the forest and taking it all in. The scenery was a true sight to behold and the complete opposite of the concrete jungle that I currently call home in the States.
Around dinner time, came the perfect Swedish weather, the rain with strong winds. Dinner was served in the barn that night by candle light.
The next morning was even better. I naturally woke up just before the sunrise and watched the sun rise and shine on ourselves. Imagine water, then tall trees in the distance over the other side of the lake and then the sun, piercing its way out of thick white clouds! It was unreal, something we are used to seeing in the movies however not in our daily lives. I then went kayaking, my new found love, and felt extremely confident in the water, something I have never done in my life. The peace and calm of the lake with fishes swimming just below was relaxing rather than frightening.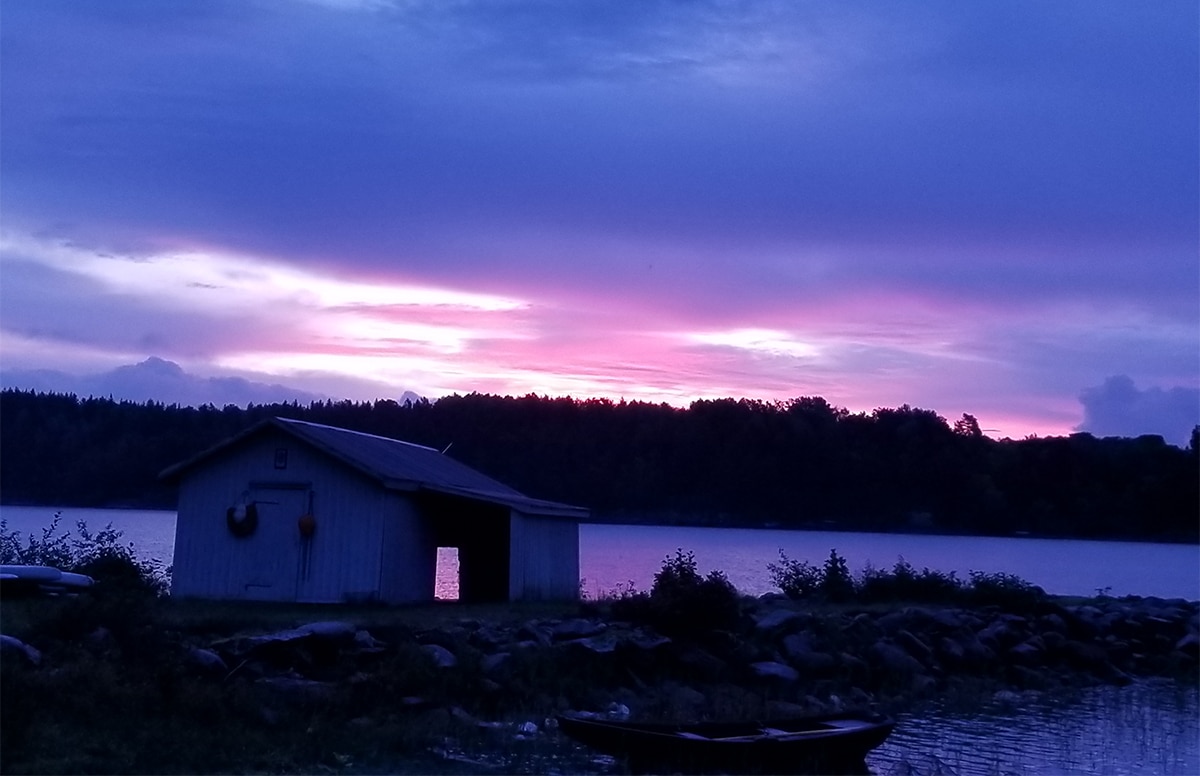 Having to leave the kayak to go have breakfast was difficult! But my body needed food, after which we went back in to water, this time to fish. I opted for the tube instead of the boat which was a lot of fun. I do wish that I had managed to actually catch a fish too but I guess I was too busy learning how to ride that tube! My friends caught some which was nice (for them).
Luckily my lunch wasn't dependent on me catching the fish and once we got to the barn, an amazing surprise was waiting for us. A three course meal starting with a beautiful chanterelle mushroom soup, pike fish mixed with potatoes and loganberry tart. More rowing, kayaking, sauna and swimming in the late followed in the afternoon before the most amazing five course dinner prepared by the chef from a local restaurant that has been in business for over 40 years. All ingredients were locally sourced and made from scratch. We kept chatting and laughing until late before one last walk back to the cabin in the dead of night.
The next morning was a realisation that the 72 hours had gone by so quickly, and I was sad to say goodbye to the some of the most beautiful, humble and hospitable people I have ever met!
I have had a life changing experience, an experience I will never forget! I'd like to thank everyone who made this most memorable of visits so utterly worthwhile.