Free From – Driving Education, Trial and Penetration Through Brand Experience
July 2019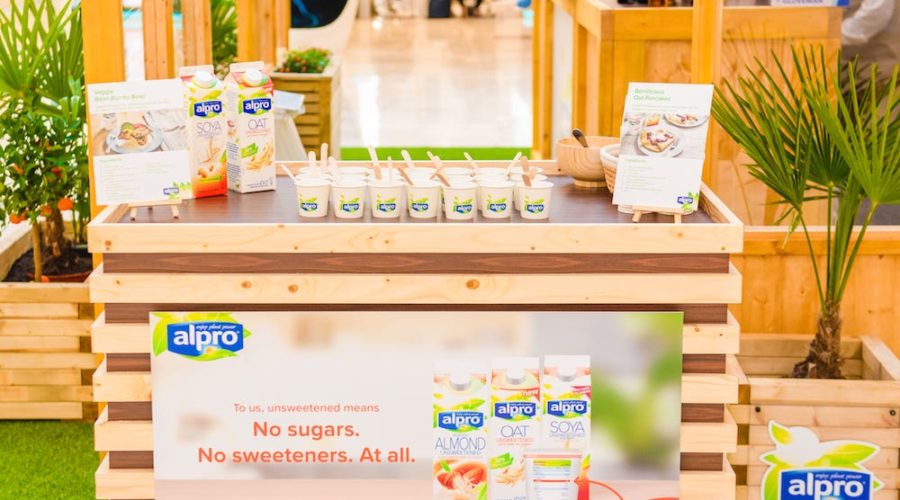 Account Manager at Purity Melissa Hannan looks at how experiential marketing can be effectively utilised by brands to engage with and educate consumers, whilst driving trial and ultimately shape purchase behaviour.
The Rise of the Free From Category
The 'Free From' market has seen exponential growth over recent years with more brands entering the market. In 2017 the global free-from food market was valued at $183.9 billion and is expected to reach over $300 billion in 2023 (Global Free-From Food Market 2018-2023).
Free-from foods were once regarded exclusively for those with allergies and intolerances but today they are largely viewed by consumers as an important part of a 'healthy lifestyle'. One category that has faced a lot of press in recent times is the dairy-free market which has seen a spike in sales from a number of factors including increasing awareness of environmental impacts, trends in veganism, the popularity of plant-based ingredients and also as a result of carefully planned strategic brand marketing.
The rising trend has resulted in some brands reacting by launching their own free from alternatives to reach these consumers. The list is extensive but includes the likes of Ben & Jerry's and Magnum who have launched their own dairy-free ice-creams whilst Warburtons now have a gluten-free loaf much like the Goodfella's gluten-free pizza range.
Integrated Campaigns With Brand Experience At The Heart
Free from brands can also be catalysts of change using their platform to drive education and influence purchase decisions. Oatly, the Swedish oat drink company stand confidently behind their message that plant-based oat milk is better than dairy milk with bold marketing tactics. The brand has caused controversy among the dairy industry with the 'wow, no cow' campaign launched a few years ago and have shown no sign of slowing down in their efforts to change public opinion towards milk.
Earlier in the year, they launched their 'Ditch the Milk' campaign to encourage consumers to make the switch in their coffees. Oatly invested extensively on out of home media as well as an experiential pop-up activation in Box Park where they offered free merchandise in return for visitors pledging to go dairy-free for 72 hours.
Alpro has been driving the growth of the plant-based category and as a result 1 in 3 consumers are now buying into this category. Subsequently, Alpro has been focussing their efforts with out of home media and brand experience to attract yet more consumers into the category.
Throughout 2019 Purity has been working with Alpro across their experiential marketing supporting them in inspiring the public to 'go big on plants' activating across various sites earlier in the year with the Alpro planthouse . Consumers were given samples of the Alpro unsweetened range featured in delicious plant-based soups, 'yoghurts', drinks and even pancakes focusing around Plant Power Day and Pancake day.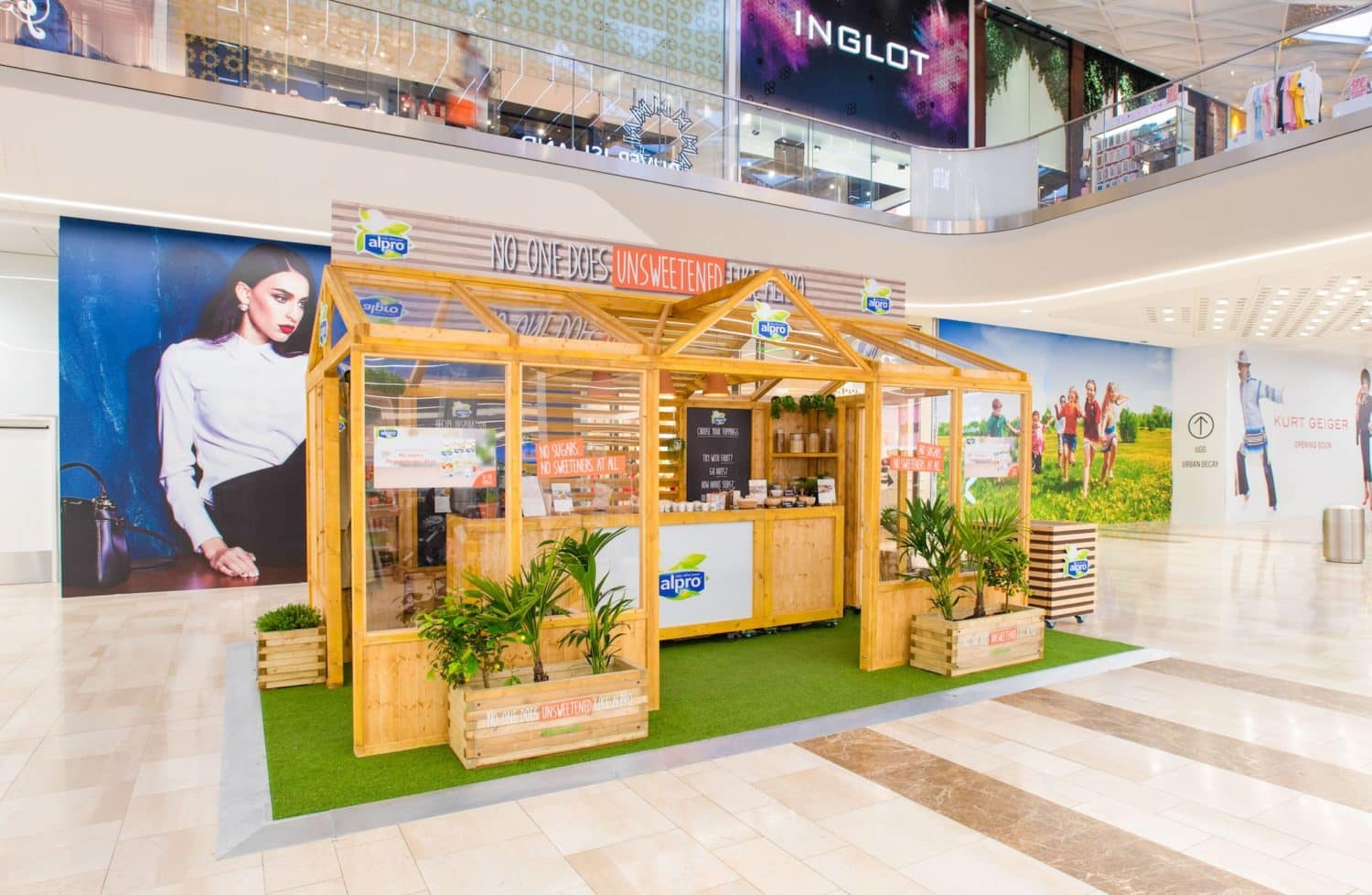 Fast forward to this Spring/Summer and our team have been mass sampling the plant-based on-the-go low calorie Caffe range. The overriding message to consumers is that you can still enjoy your favourite foods, drinks, coffees and meals made from plant-based ingredients and not compromise on taste or quality, and even better it's good for you and the environment.
Reaching Consumers At Music Festivals
Bounce Foods can be found in the free-from aisles of supermarkets, the brand ethos is to inspire positive change in the way people eat and their brand experience campaigns reinforce these values. Back in 2016 they launched a bounce 'Zorbathon' across three cities to crown the UK's most unstoppable city, the campaign was supported by mass sampling which allowed consumers to trial the products.
More recently Bounce attended Bestival 2018 encouraging festival goers to 'start the day with a bounce' by handing out breakfast bar samples within survival kits to those who signed up at their colour station. This sampling activity strengthens the message that their products can be enjoyed as part of a healthy diet and give you fuel for the day which can ultimately influence purchase decisions through trial and positive healthy lifestyle association.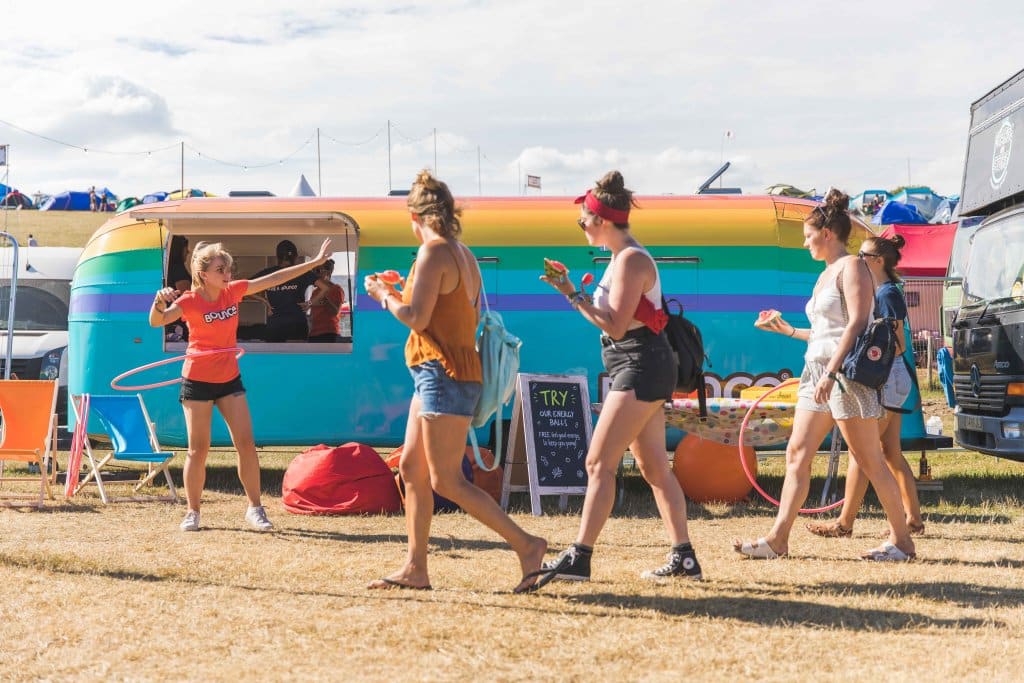 Image: Bounce
Are you considering experiential marketing for your brand?
Perhaps you wish to drive trial of a new product or simply wish to reach new consumers. Speak to a member of Purity today and we can advise on how to achieve your objectives through strategic brand experiences.