Brand Experience Trends 2021
February 2021
Experiential marketing involves connecting with your audience via real-world experiences. It's about encouraging people, aka consumers, to get involved and engage with your brand. When people think of experiential marketing, they might often think of in-person experiences, such as events or in-store shopper marketing. While these activities will always remain at the heart of experiential marketing, there has been an increase in hybrid and virtual experiences following the disruption of Covid-19 on normal life. This is one of the key trends which will continue well into 2021.
Consumer Experience Is Still Important
Firstly, consumer experience is still paramount in a world where COVID-19 has made face-to-face contact more difficult. According to Customer Think, 59% of consumers care more about customer experience when deciding whether to purchase from a company than they did pre-COVID. These findings tell us that now more than ever, brands need to consider creating memorable customer experiences at every touchpoint. During this time in lockdown, and also when the worlds begins to go back to 'normal', consumers are finding themselves with more time on their hands. For brands this means consumers have the time to make more considered choices when it comes to which brand is right for them. They may shop around until there's an opportunity to become engaged with the brand through experiences, whether that's digital or physical. It's important to remember that the consumer experience starts with the very first contact with the brand.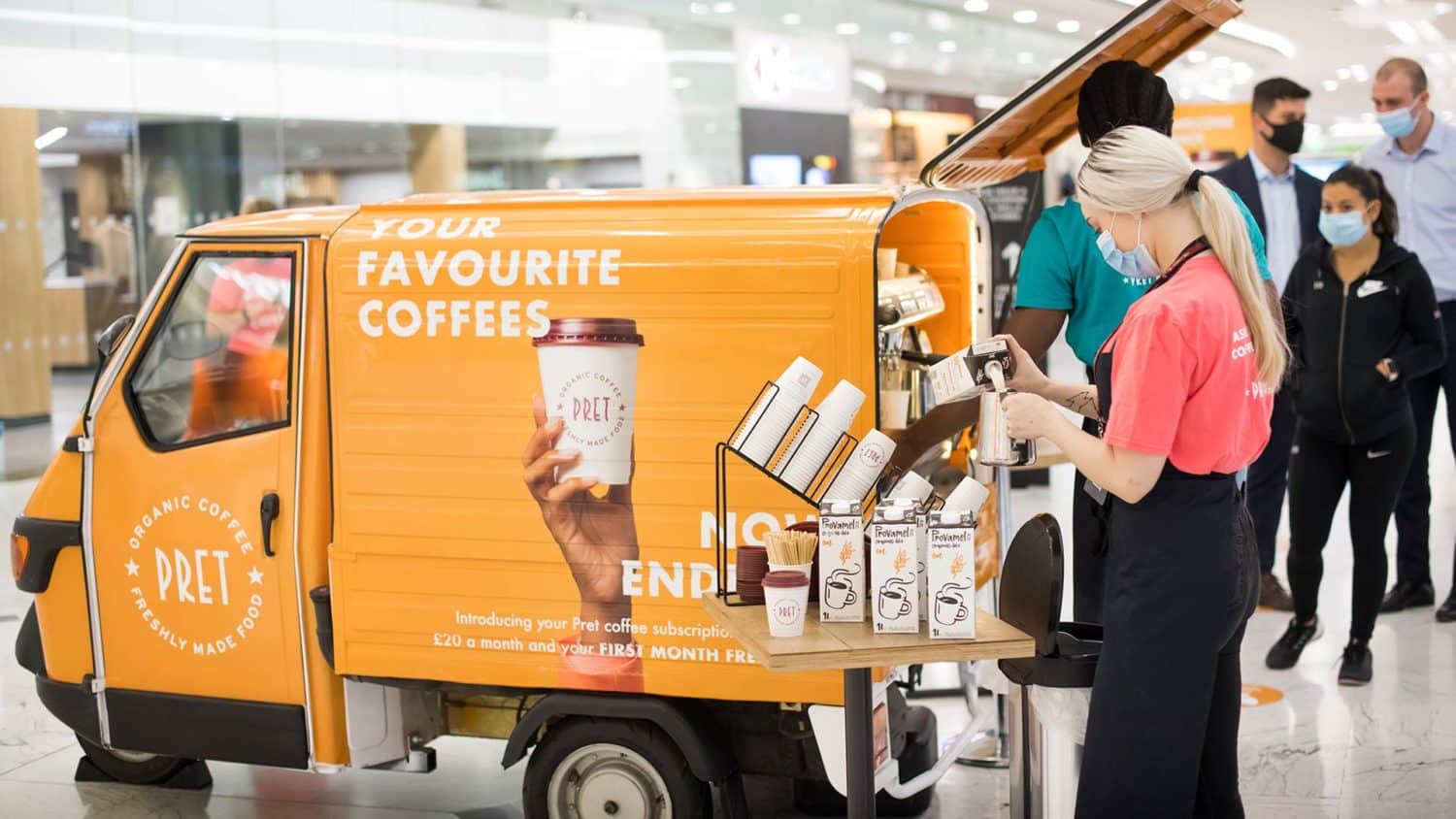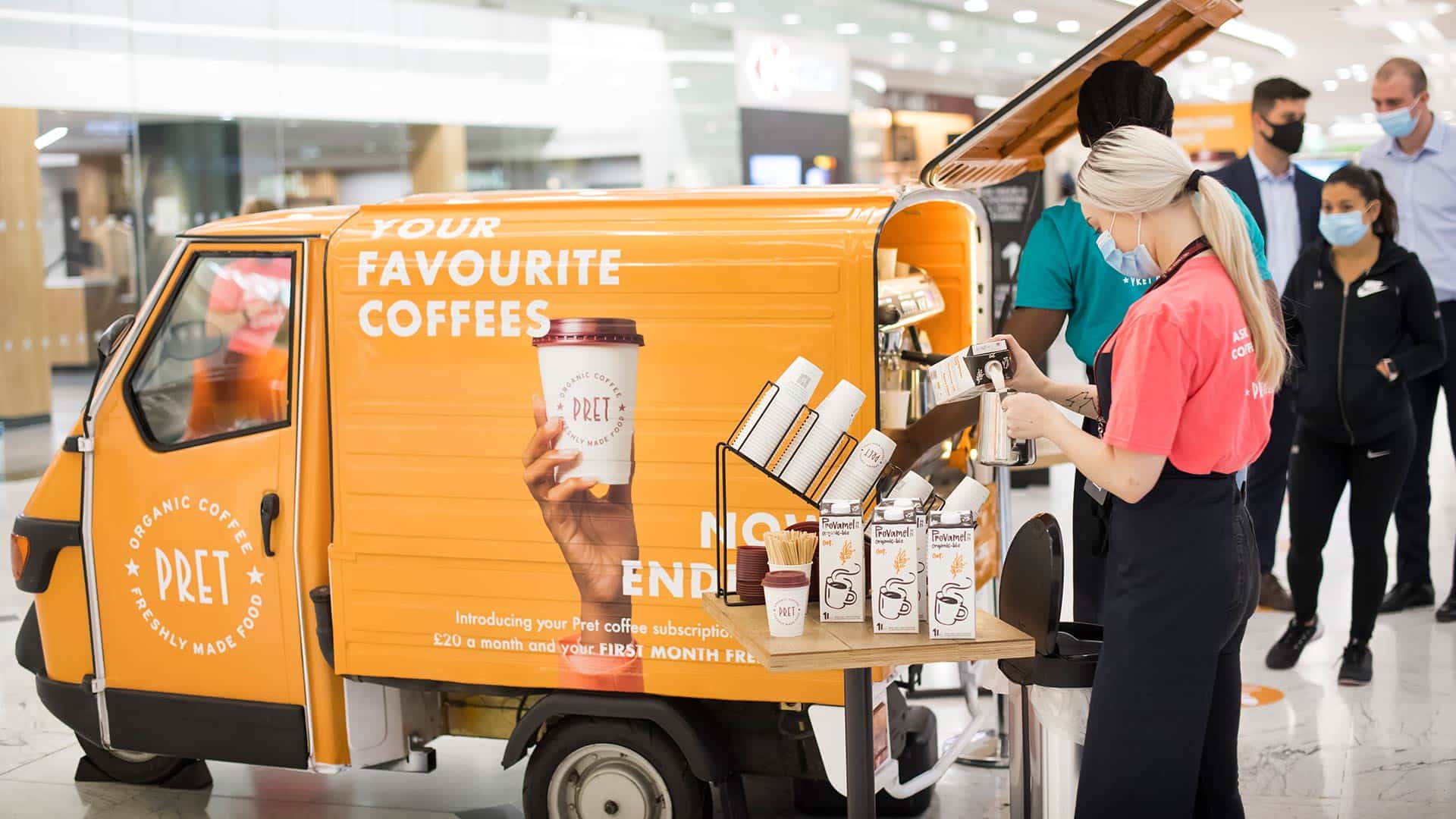 Contactless solutions
2020 was the year we witnessed many contactless innovations emerge to keep life moving in the new normal, from deliveries to payments to the way we shop. Many brands have discovered that there are efficient ways of incorporating these solutions into their customers experiences. For sampling there are mechanics which can dispense products simply by scanning a QR code, there are no buttons on the machine it's all controlled by the user's smartphone. In the coming year, you might expect to see increased use of this type of technology and other means of creating experiences without the need to physically touch anything.
Brand Experiences on the Move
Many businesses have been trying to become more mobile-friendly in recent years and we predict this trend to continue in 2021. The benefit being that brands can attract consumers attention whilst they are on the move rather than congregated in one area, which for now isn't permitted.
With a mobile experience on the street, you can take your brand to where it needs to be and stay out in the open where people will feel safer to approach and engage. This could include using bikes or food trucks and moving to various different locations.
Sampling in a Covid safe way
Distributing complimentary samples is an excellent experiential marketing strategy, but it will take some time before we can sample as freely as we did pre-pandemic. While we patiently wait for that time to come there are still ways to conduct sampling experiences in a Covid safe way (using social distancing, PPE, signage etc.) Most people are now pretty used to these measures in daily life from their own regular trips to the supermarket. The samples themselves are often now sampled as individual sealed samples that can be given out either directly to consumer, or perhaps even sending them out in online customer orders. Sealed samples which are picked up by the consumer give reassurance that it's safe to try. This strategy still effectively delivers brand experience and makes use of branded packaging and other POS elements.
If you're looking for further information about how to organise a product sampling campaign in 2021, download our consumer behaviour report.
Digital Brand Ambassadors
Brand ambassadors play an important role in experiential marketing, providing a face for your brand and offering the opportunity for consumers to ask questions. Digital brand ambassadors allow customers to reach the brand from the comfort of their home. They can provide a fully branded and personalised experience and offer virtual demonstrations of the product. Digital brand ambassadors aren't a new concept, they have been utilised long before Covid came around, the main advantage is that they are a flexible solution to consumers who are perhaps unable to attend a trade show or event in person. Today the main advantage would be the fact that they offer a safer option than face to face interactions.
Smart Use of Space
How consumers interact with physical space is also an aspect of experiential marketing. The pandemic has changed how space has had to be used so that people can keep their distance from each other, with many places operating at half-capacity or even less. In the coming year, we're sure to see smart uses of space, such as modular setups for outdoor advertising. Being flexible is key and knowing how to make it look like you have more space can be useful too.
In-home Experiences
Everyone is keen to get back to attending events in person, but the ability to do that freely, particularly indoors, may be a while away. In the meantime, connecting with people in their homes through various digital means has been a useful way of showcasing events. The use of video content, including live video content, is one way that many brands have ensured they can still provide an engaging experience. Video adverts and interactive digital content can be personalised and help brands to form a connection with consumers.
Digital experiences can offer consumers a broad range of ways to interact with your brand from games, quizzes, cook-a-longs and more. While COVID-19 might have been the driving force behind this, it won't necessarily die down when the outbreak is under control.
Get in touch
When you need help with your experiential marketing campaign, whether online or offline, Purity can help you to achieve your goals. As experts in live experiences, we deliver innovative solutions that will capture the imagination of your audience.