Experiential Alcohol Marketing – The Recipe for Successful Trial
September 2021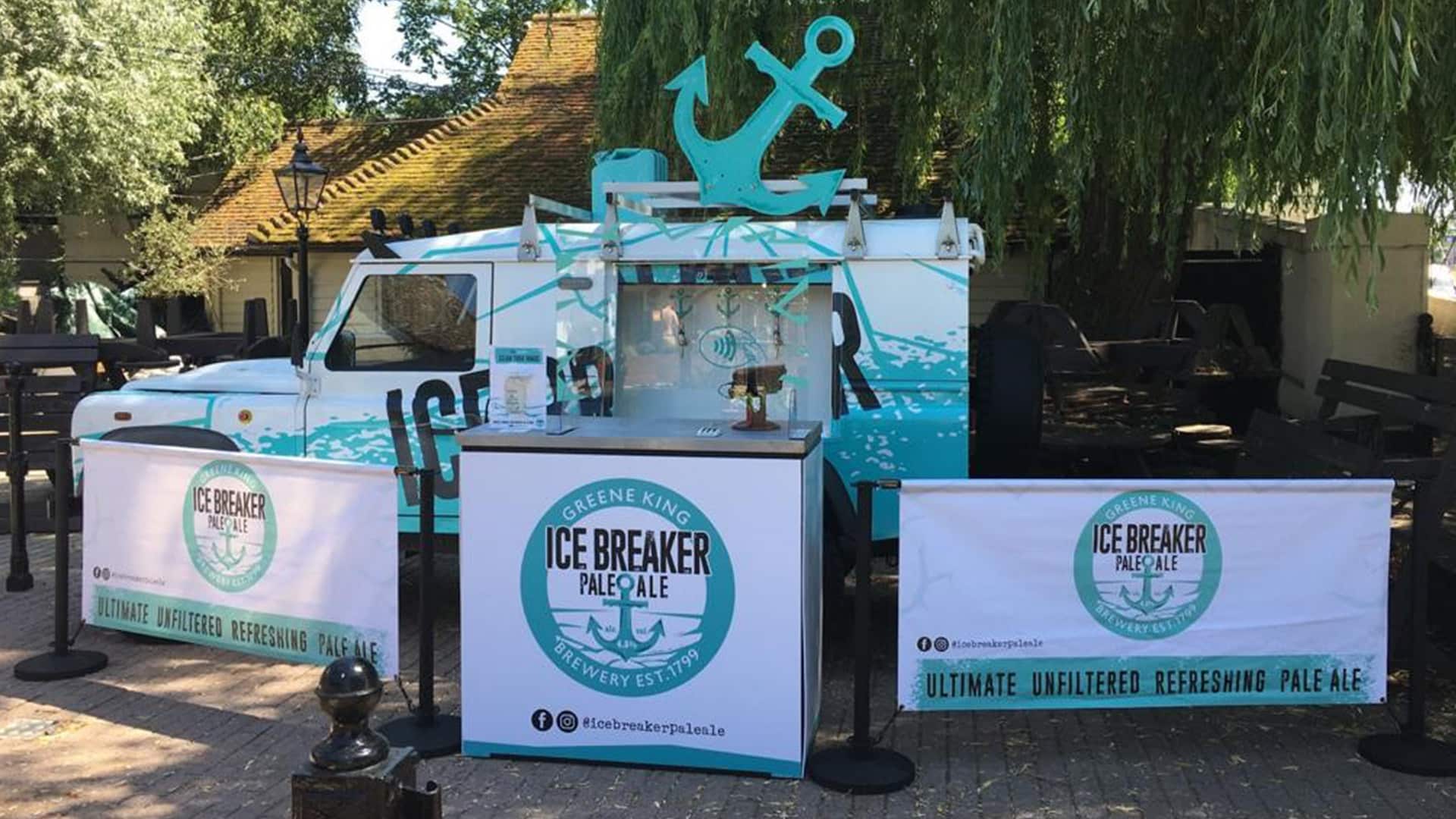 Marketing in any sector is rife with setbacks including competition, differentiation, and originality. The advertising of alcohol puts each of these challenges under a magnifying glass, especially as general opinions, and codes of conduct, shift ever further away from advertisements that depict irresponsible behaviour.
This leaves the advertising of alcohol in a catch 22, with businesses having to consider how to keep their brands fun and appealing without tipping the scales too far in the wrong direction. Experiential events that offer alcohol sampling to select audiences in responsible settings have proven to be that solution for many. At Purity, we've seen the power of this approach first hand through our work with brands like Ice Breaker, who were able to offer samples even during lockdown with the help of our experiential offerings and a partnership with Deliveroo.
Unfortunately, a delicate balancing act is still essential for ensuring that even sampling campaigns leave the right taste. Here, we consider what exactly goes into a successful experiential cocktail, and how to turn those benefits into the umbrella that provides flourish to your brand offerings overall.
Legislation and codes of conduct
The targeted oversight of sampling campaigns makes it far easier to manage who's consuming alcohol and how, but brands must still adhere to every element of the sixth release of the Portman Group Code of Conduct. As well as outlining well-known regulations including challenge 25, the code includes specific sampling requirements regarding responsible drinking, and brands should implement them across sampling events by –
Predetermining reasonable sample sizes
Using experienced staff who ensure responsible drinking
Limiting samples per Drink Aware guidelines through the use of wristbands/hand stamps, etc.
Location
Ineffective locations can lead to passing samplers who don't stick around long enough to convert, or worse, inappropriate audiences that put legislation at risk. Experiential alcohol marketing is therefore reliant on engagement in locations where samples not only fly off the shelves, but where consumers are in the right setting and mindset to engage. In previous campaigns like our Absolut summer tour, we've especially discovered that festival activations, sporting events, and other celebratory sounding boards offer expansive audiences (up to 20,000 for large-scale sporting events) who are in the mood to stick around and, if you've played your cards right, buy.
Timings
Alcohol is more open than most products to seasonal peaks, and typically wintery drinks like port and whiskey are unlikely to land well in a pop-up at a summer festival. As such, the timing of a sampling event is also fundamental to how well products are received, e.g. beer brands at summer festivals/sporting events vs spirits at Christmas markets, winter indoor shopping mall pop-ups, etc.
Balancing mass sampling vs engagement
Mass sampling has obvious benefits for brand reach and even the avoidance of irresponsible drinking, but mass samples across passing audiences rarely equate to sales. For that, brands need the opportunity to tell their stories, and engaging experiential alcohol marketing that encourages consumers to stick around is the only real way to create that sounding board. Pop-up shops headed by experienced and passionate brand ambassadors like our Jameson campaign can still attract large numbers in the right locations (60,000 samples over 14 live sampling days,) but ensure a personal touch that can prove as a starting point for all-important brand evangelists.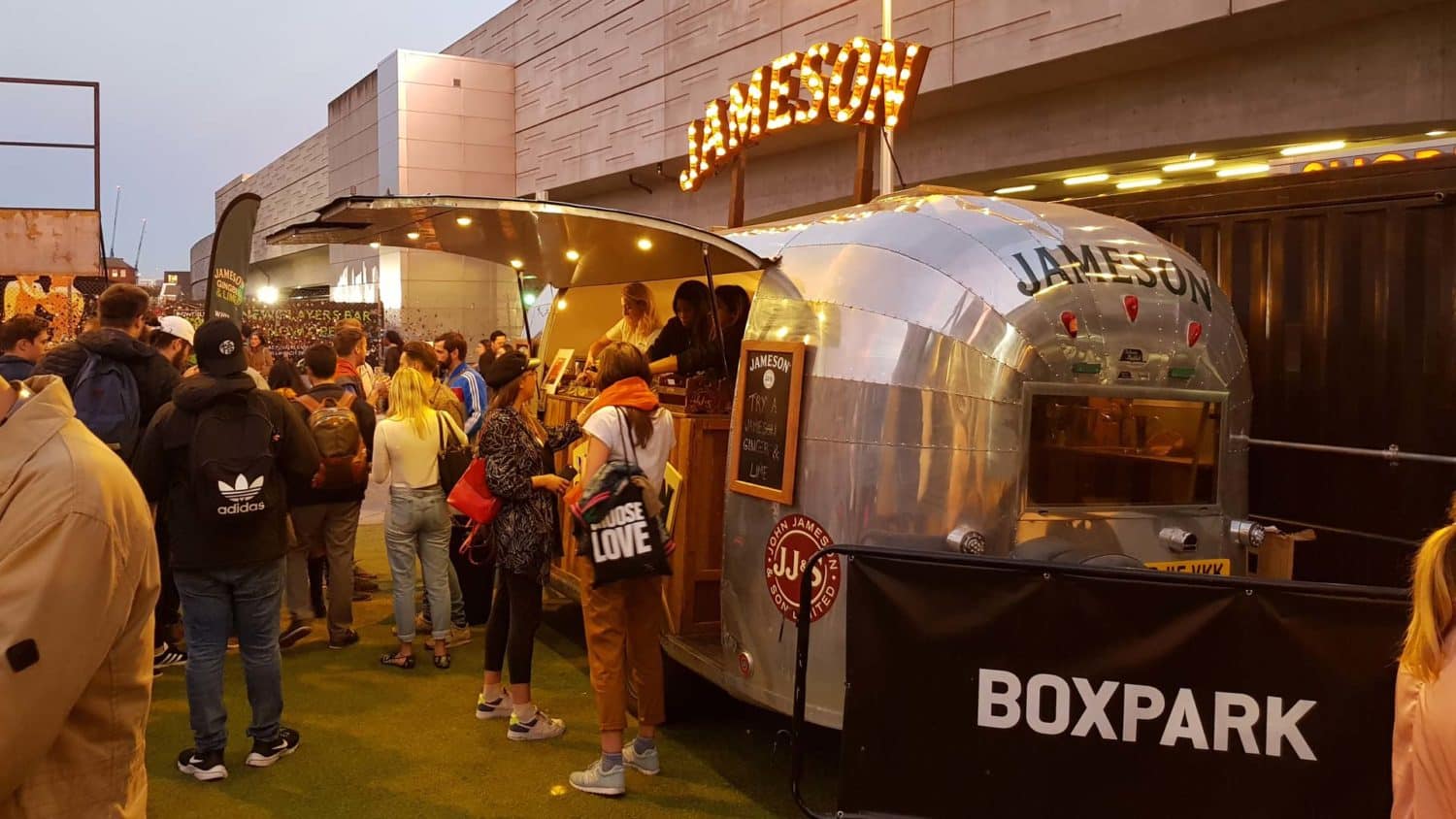 The perfect serve
Experiential alcohol marketing is all about getting consumers on board, and poorly displayed, warm samples at the bottom of plastic cups are never going to achieve that goal. Rather, brands need to consider how their drinks would be served in a bar or at home after a long week. As well as thinking about sampling setups themselves, it's therefore essential to consider serving fundamentals that can drastically impact taste, including –
Temperature considerations
Mixer vs alcohol ratios
In-glass additions (e.g. ice/fruit/decorative flourishes)
Format of distribution (bar/waiting staff etc.)
Sustainability
The widespread use of plastic cups sampling campaigns has long posed sometimes damaging sustainability questions. As well as now being disallowed at many mass events, increasingly eco-conscious millennial audiences are heralding an age where plastic has to go, while even increased washing of glasses, etc. remains off the cards. As such, sustainable sampling focuses are all about recyclable glasses and decorations, and the facilities necessary to dispose of them safely and, most importantly, sustainably.
Our product sampling campaigns have already driven significant experiential conversions for big-name brands including Greene King, Jameson, Absolut, Johnnie Walker, and many more. Contact us today to get a taste of what our samples could offer to your brand.